Behind the lens with Bianca Hinton: F*ck what anyone thinks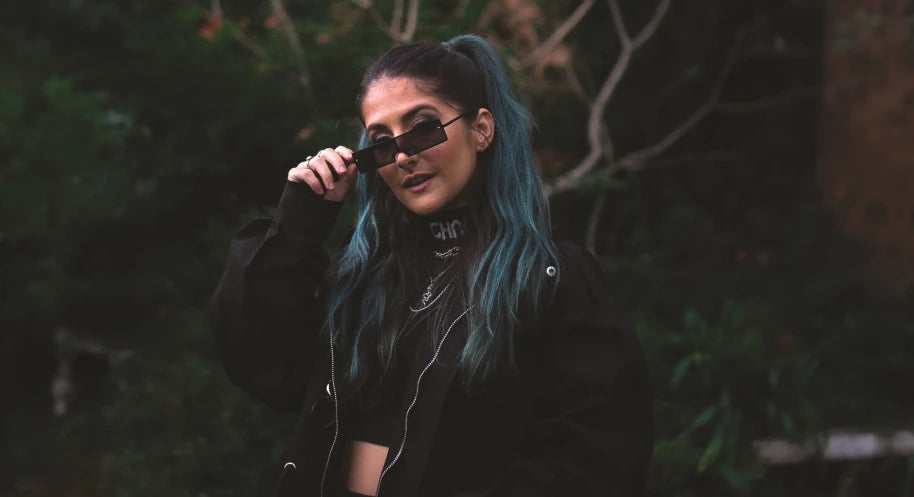 Words by Natalie O'Driscoll
The fierce and fabulous Bianca Hinton has been making a name for herself in the music industry over the last couple of years, with her creative eye and super slick videography skills. In 2022, she became the first ever recipient of the Visual Creative of the Year award at the Gold Coast Music Awards, taking home the gong sponsored by the uber-talented team at long time awards partners The Edit Suite.
We got behind the lens with this worthy winner to get to know her a little better.
Tell us a little about some of your career highlights
I've been so incredibly lucky to have worked with some amazing artists since I started shooting music in 2020. A big highlight for me was this year's GCMAs; being nominated was a highlight on its own - actually winning blew my mind. I also went on my first tour! Being able to capture life on the road for Jaguar Jonze was sick, and I met some really amazing people along the way. 
Have you always loved being creative behind the lens? Do you recall some of your earliest memories of filming?
I remember making my first ever video when I was 10. I did this weird music montage to Kesha's song 'tik tok'. I was so lame back then, but it's a full circle moment for sure. So yeah I definitely feel like I've always had this love for being behind the camera, which ultimately stems from my love of music too. 
Who are some of your fave musical acts on the Gold Coast right now?
The Gold Coast is full of talent so I feel like I'm constantly coming across amazing artists. My go to hype artist at the moment is Saint Lane. What a legend. He's released a couple of tracks with Lily Papas and Peach Fur too, who I also love. I swear I could listen to them all day. 
You've made history by becoming the first ever Visual Creative of the Year at the Gold Coast Music Awards. What went through your mind once your name was called out, and how do you feel now that the dust has settled a bit?
WOAH I totally didn't think of it like that. The other nominees are all insanely talented, so I was genuinely going to be so stoked no matter the outcome. Although I definitely had myself convinced that I wasn't going to win. When they called out my name I did this awkward clap because I didn't think it was me at first, and then I kind of froze... and then started sweating at the thought of having to do a speech. It still blows my mind though, but to know that my work is being seen and appreciated means everything and I'll forever be grateful. 
What do you love about working with musicians and other artists?
I love working with artists and musicians. I can be myself; I don't have to dress a certain way, or talk a certain way to "fit in". We all understand each other and share the same love for music and creativity. It's a feeling I've never experienced in any other industry, EVER. Artists and musicians will always have my heart, especially those on the Gold Coast. 
Got anything exciting in the works? What's 2023 looking like for you?
2023 is going to be wild! I'll be spending a couple of months working and connecting with artists and creatives in the US, so I'm pretty excited about that. I can't wait to brag about my favourite GC artists while I'm over there. I've also been working on a project totally unrelated to videography; it's something I've always loved but held back on and I've kept it a secret my whole life. Hopefully I'll have the balls to share that with our community sometime in the new year too.  
Is there anything else you'd like people to know?
The Gold Coast music community rocks, literally and metaphorically. Do what you love, be yourself, and f*** what anyone else thinks.
---