High up and hustling: Ten questions with Australia's most unique music journalist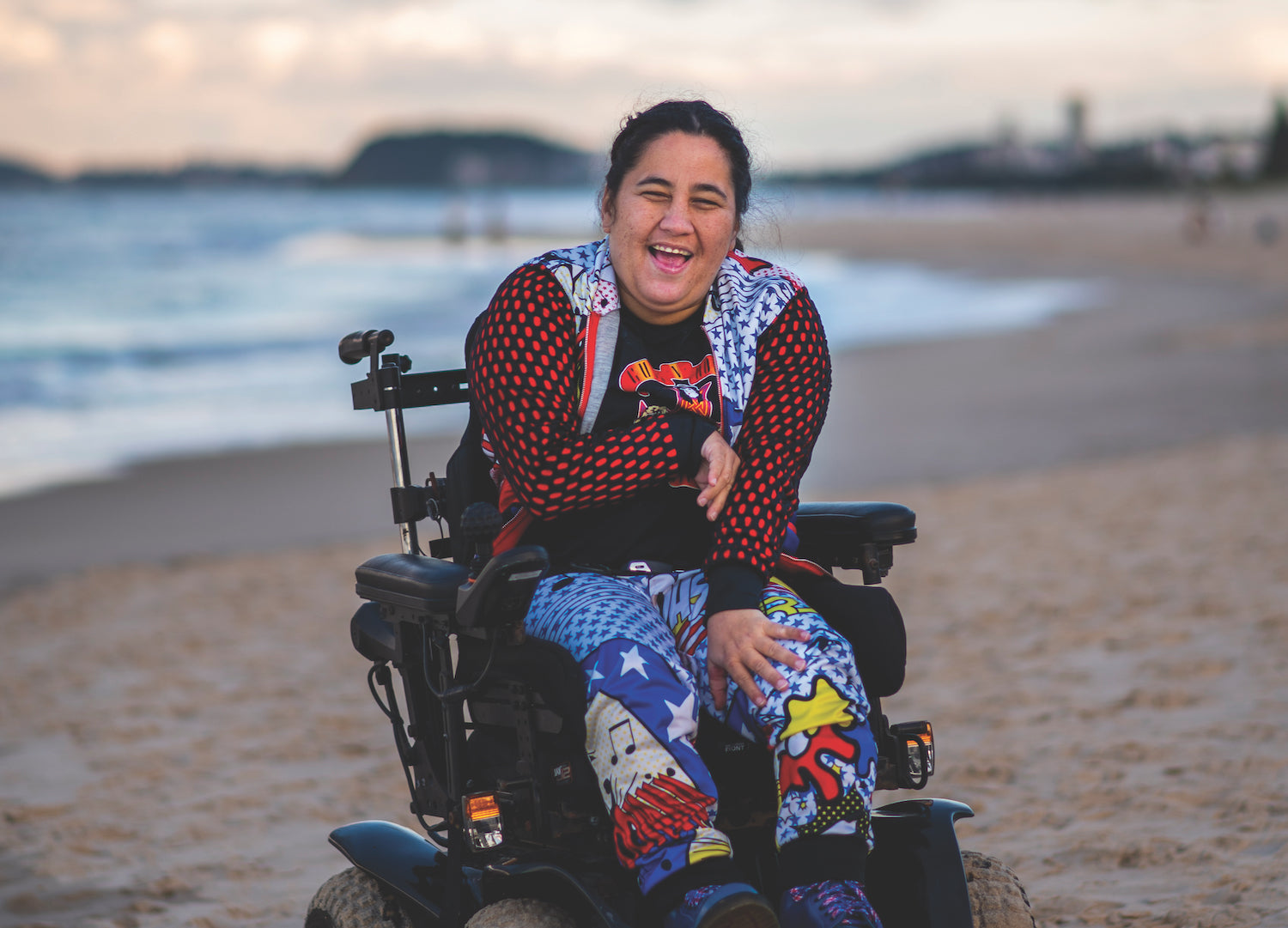 Words by Montana Lowrey
Images by Simone Gorman-Clark
Meet Marlena (she/her). Music journalist, businesswoman, public speaker, author, and globe-trotting adrenalin junkie.
Throughout her career, she's interviewed the likes of Russell Brand, Ed Sheeran and Robbie Williams, and was the first person in the world to base jump with cerebral palsy.
Yes, you read that right. Marlena is non-verbal, gets around in a wheelchair, and throws herself off 421-meter towers for fun.
She's lived ten lives to the average one and has a tenacious zest for life, sports the cheekiest sense of humour and thrives off her independence.
We get to know this extraordinary woman by reliving highlights, reflecting on doubt, and exploring how music is the tether between her and the rest of humanity.
For someone that wears many hats, what is your unofficial job title to capture them all?
Tough one. I would like to think entrepreneur but I am yet to come up with that million-dollar idea. Perhaps hustler (lol), as I like to have a crack at many different things.
Describe a day in the life of Marlena...
My life is pretty simple but complex at the same time. I'm always working on a project, or six - whether that be working on a new book (I currently have two on the go) or planning an overseas adventure.
A typical weekday consists of getting up, having brekky, checking socials, writing, strolling the beach in my electric beach chair, training, and attending meetings.
I also own a jumping castle business operating at events and local markets, where I sell my books, so weekends are always busy. I also attend every music event I get the opportunity to, and speak at events.
>>> Shop all things Nevertheless
How do you navigate such an extraordinary life living with a disability?
I love life and being part of many communities. I am blessed to have a solid group of people around me that enjoy the same things I do.
I believe we can achieve anything by linking with people, and living in a diverse world where we all chip in and contribute.
How would you describe your career thus far?
I sell myself as Australia's most unique music journalist, and although I get support from those around me, I still hustle to get a gig or interview. There are many goals I still have in this space, but if I were to sum up my career in three words they would be blessed, interesting and evolving.
Why do you have such a deep love for live music?
Music is everything. I even have a tattoo that says; "Where words fail music speaks".
It brings people together. In a packed room with music up the front, no one cares if I am non-verbal or have cerebral palsy. This is why I advocate for people with disabilities to be among the action, not placed up the back in the disability section.
Music is a vital component and ingredient in creating an amazing community connection. Music makes me feel like I belong, am connected and part of my community - whether this is a local gig or flying across the world to see a bucket list act.
What are some of your biggest accomplishments?
My biggest accomplishment hands down is graduating from university with a journalism and media studies degree. Although uni took a little longer, I took the time to build connections in the music industry and broaden my horizons through travelling.
My career has also given me some amazing interview opportunities with world-known artists. However, since COVID put the brakes on travelling, buying my first house would be my most recent achievement.
>>> Want more inspiring stories like this delivered straight to your inbox? Sign up to our mailing list.
What extreme activities have you conquered?
I will give anything a go. I love skydiving and have done 31 jumps, so this is the main extreme activity I do regularly.
This led to an opportunity to do a 421-meter base jump (which is essentially skydiving off a fixed object rather than a plane) in Malaysia off the Kuala Lumpur Tower. I have also gone hot air ballooning and driven at breakneck speeds in a Ferrari across Italy.
For someone so fiercely motivated and accomplished, are there ever times when doubt creeps in?
Doubt is a natural part of life and I experience it all the time.
By having a disability, sometimes I get a pat on the back for achieving really mundane and ordinary things.
Unfortunately, this inspirational porn comes with having a disability. When I have worked hard and made incredible connections throughout my career, sometimes doubt builds in my mind around whether people are only supporting me because I have a disability and if I deserve my place in the industry.
I can't avoid or hide my disability (not that I want to) but I never want to 'use' it to further my career or get access to places others may not.
I just always remind myself to embrace my uniqueness, be open about it, continue to hustle and believe in myself because I do deserve my spot in the music industry.
Does living with a disability ever affect your independence?
For sure, and it will throughout various stages for the rest of my life. I love my independence and value simple things like going for a long walk on the beach. It gives me the opportunity to think, de-stress or simply be myself without having people constantly around.
I think independence is vital for all people, but having a disability you just have to accept there are things you cannot do by yourself. This is when I consider myself blessed to have a wide range of people in my life that have my back.
What is the legacy you wish to leave with the world?
I just want to make people laugh and enjoy life to the max. I want to be seen as someone who loves meeting and mixing with a wide and diverse range of people.
I don't want to die rich, but rather know I have enriched the lives of others. Life is good and I am blessed!
---