How To: Set up a Springtime Garden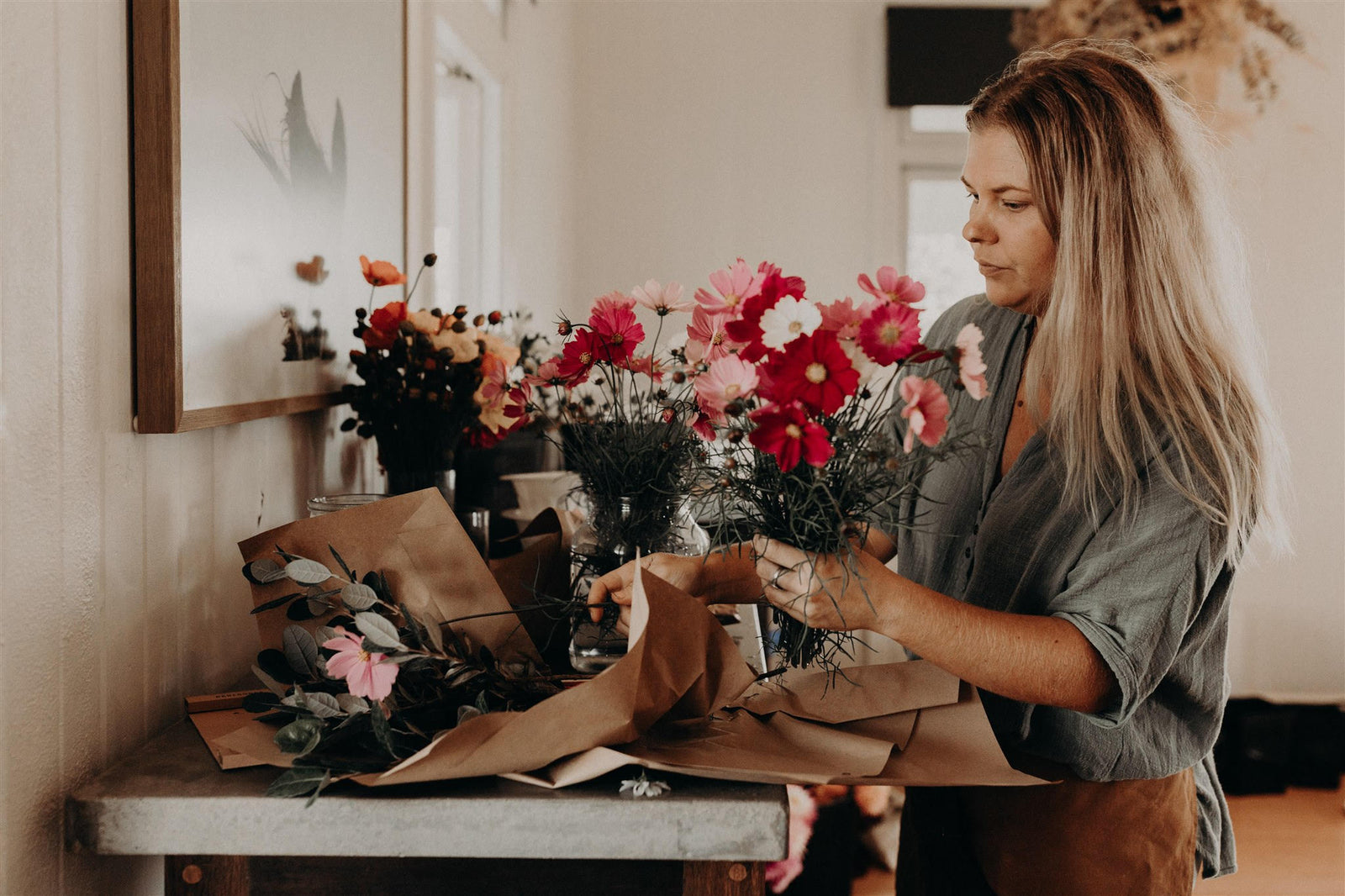 HOW TO: SET UP A SPRINGTIME GARDEN FOR SUMMER BLOOMS 
Words Danielle Read & Jessica Connor @poppyandfern
Journal Three's 'How To' comes from Jessica Connor: A florist, businesswoman and founder of Poppy & Fern nestled among the rolling meadows of The Farm Byron Bay.
A creative soul at heart, as a child Jess grew flowers with mum, Sue, in their home garden. Often bundling up a bouquet of fresh blooms as gifts for friends. In year nine, Jess completed work experience in a florist and started her first job there at 15. By 21 Jess had taken over her first florist shop, and ran it for four years. Before returning to a home studio, where her interest in knowing where her florals came from and growing her own blossomed.
She continued on to study horticulture, and then in 2017 Jess moved her business to The Farm Byron Bay where she began growing flowers on a commercial level.
Whether you have a sunlit windowsill, planter box or garden-ready area of your own, Jess runs us through her secrets to creating an abundant summer garden this spring.
WHAT YOU'LL NEED
Seeds

Seed flat or egg carton

Seed raising mix

Potting mix

Fertiliser

Compost

Sunny area

Water
HOW TO CHOOSE YOUR FLOWERS
When starting from seed, always think three months ahead. So in spring, we're thinking about flowers to bloom in the next season.  
Start with really high quality seeds. I recommend Veggie Seeds – not sponsored! Just amazing quality and germination rate. For the most bang for your buck, try snapdragons, paper daisies, cosmos, zinnia and statice.
HOW TO PREPARE YOUR FLOWERS
Use a seed flat from Bunnings or even an egg carton! Add in a lightweight seed raising mix to give seeds enough space to germinate. Pop your seeds straight into the raising mix and keep damp. Most flowers love a sunny area, so aim for full sun if possible.
From 7 to 10 days, you should start to see some changes and sprouting. As soon as you start to see green, feed them with fertiliser. We use an organic seaweed solution with blood and bone once a week. Your seedlings will stay in here 4–6 weeks, until you can see a root structure when you slide them out.
HOW TO PLANT FOR BEST RESULTS
Plant in a cool part of the day, afternoon is amazing. Otherwise, morning is fine too. Dig a hole in your garden, put in a handful of compost (we use Living Farm's), then the seedling and give it a good water.
Once it's in the ground, we change out the feed, so you could use a worm compost tea (the liquid run off from a worm farm) or chicken manure.
HOW TO CARE FOR CUT FLOWERS
The flowering plants I've mentioned are known as 'cut and come again.' Meaning the more flowers you cut, the more you receive. It's important to harvest flowers often to slow down the lifecycle of the plant, so it will live and produce longer. Ideally harvest first thing in the day.
For a larger surface area, cut your flowers on an angle, so the flowers can drink more water. If you're gifting your cut flowers, and they've been out of water, make sure to cut them again as air pockets will have formed and won't let as much water in.
Take any leaves off the stem and keep them in really fresh water. My rule is, if you don't want to drink the water, your flowers won't either! So freshen it as needed. 
---