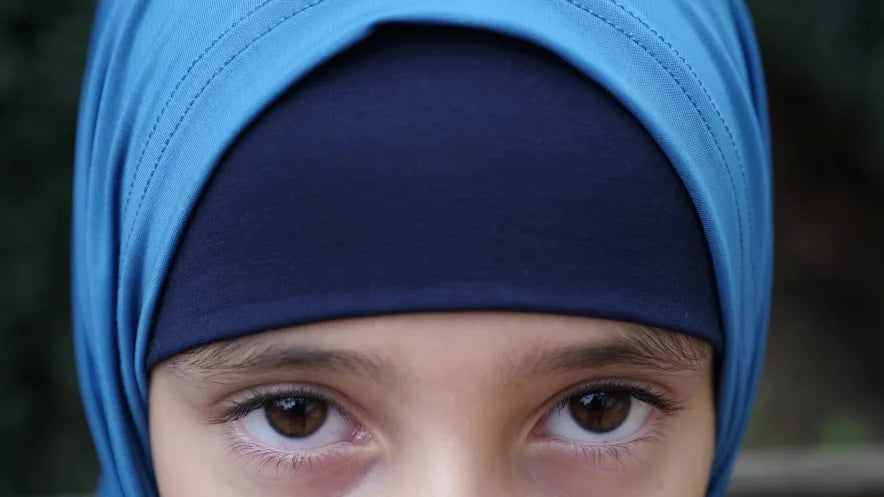 Words by Natalie O'Driscoll
A story of one woman's triumph over abuse, separation and xenophobia.
In her hometown of Aswan, Egypt, Aya Mahmoud* lived the simple and independent life of a teacher, a lover of all things science and a devoted daughter and sister within a kind and supportive family.
Unusually for an Egyptian Muslim family, her father had always wished for a girl child to be born first, and so Aya's birth was a time of great celebration. Growing up with her siblings, Aya was always made to feel equal to her brothers, and knew no difference in the way they were treated.
At 30 years-old, Aya realised she was past the standard age of marriage in Egypt, but was not overly keen on giving up her independence. Her mother, through constant half-serious, half-joking comments, pushed to her to consider the institution that had brought her and Aya's father so much joy and such a wonderful family.
My mother always wishing me to marry," says Aya. "Man man man, she says!" she laughs fondly at the recollection.
Aya, keen to please her beloved mother, began to open up to the idea. Through friend and family connections at the local mosque, she was introduced to Youssef, a successful doctor and Egyptian-Australian man, 15 years her senior. He was previously married with older children, all living in Australia, where he worked.
They would meet at a public café outside and talk for hours. Aya, desiring a marriage that would work as well as her parents', didn't hold back.
"I think women should be free and independent," she'd state. Youssef agreed wholeheartedly.
"I love spicy food," she told him. "My favourite," he smiled.
"I want to come home and visit my family in Egypt for three months of every year," she said. "Of course!" he exclaimed.
While Aya didn't particularly feel any great affection for Youssef, he seemed to be on the same page as her in terms of values. And her mother's excitement at the prospect of such a good match sealed the deal. Aya consented to the marriage. 
>>> Shop all things Nevertheless
Following the 2013 nuptials, Aya said a fond and sad and farewell to her big, loving family, and moved to Australia with Youssef, where his medical practice was.
And that's when things changed.
As soon as Aya was removed from her support network, in a new country and wholly dependent upon her husband, Youssef allowed his true colours to shine. Controlling, critical and jealous, he barely let Aya leave the house, and would call her constantly whenever she wasn't in his presence.
She had to get permission for every little thing she did. He would begin fights with her over nothing, and soon began hitting her.
Keen to be the perfect wife, Aya remained quiet and obedient, doing everything she could to please her husband, although nothing was ever good enough. He would put her down, mock her, make her feel worthless, and without anyone to lean on and having a very limited grasp of English, Aya had no one to turn to.
"I did everything for him," she recalls. "I made our home perfect. I never say anything to him. I always let him do anything he want. Even when he… he needs me in the night, and I not want to, I never say no."
She pauses, and tears come to her eyes.
"I used to go to the toilet after and cry and cry. I need to leave my life. But I didn't know what to do."
Quickly, Youssef disabused any notion that Aya had of returning home to visit her family, and with no money of her own, she was unable to do anything about it. 
When she gave birth to their son Ahmed, things got a little better. She had another person to connect with, a dear little soul to pour all of her love and affection into. But money-obsessed Youssef got greedy, and when Ahmed was a year old, he issued an order to Aya.
"Once I had Ahmed, he tell me to go to the government, and tell them I am single mother," she recalls.
"He tell me to lie, to get payment for single parents. I refused."
This refusal set Youssef off, and the nearly two years of threats and coercion and hitting exploded into an outburst of severe physical violence. He beat Aya mercilessly, sitting on her and strangling her until she almost lost consciousness.
Youssef then rang his brother and brother-in-law, who came to the house. They too, burst in and Youssef's brother also beat Aya for her disobedience. She flinches at the recollection of it, and also at the memory of the men seeing her in her night clothes and with her hair free, something that is completely haram (forbidden) in Islamic culture. 
"The shame of seeing me in night clothes," she says, looking at me earnestly, willing me to understand. "They just broke everything. Everything."
Youssef and the men pushed Aya into the street, gathered up baby Ahmed, and while telling Aya she would never see her son again, drove off. Despite her state of undress and degree of physical injury, Aya ran after the car. She jumped over bins, trying to climb fences, and when she lost sight of the car she pounded on neighbouring doors, begging for help.
The neighbours either didn't answer, or told her to go away. With her limited English, she was unable to describe to people what had happened, and could only say over and over in sheer desperation: "I need my son. I need my son."
Finally, the wife of a man who was telling her to leave took pity, and made him let her in. They called the police, and Aya experienced her first, and unfortunately not her last, instance of racism from Australian authorities.
They questioned why her husband, a successful physician, would do something like that. Was she planning to steal their son and flee to Egypt? The police treated her like the party in the wrong, and did nothing to assist her with her injuries. Treating it as a matter between the two of them, they left her to deal with it on her own.
"She [the police officer] stopped me in the middle of talking. I tried to continue she no want to listen. She said 'I'm the police officer you keep quiet and I talk only. You with a police officer you have to keep quiet'.
"She told me to go see a psychologist. She said maybe the problem is me and not him.
"I didn't know I could ask interpreter for the police. I didn't know the law. I was scared. I had no friend," she remembers.
"I thought, if the police not support me, who will?"
Youssef had a plan, however. He was keen to move on and get multiple wives, something Aya had always said she wouldn't agree to.
"I take half a husband?" she asks in disbelief. "Do the men take half a woman? No. It should be the same for men and women."
Aya possesses great strength and clear sense of self-worth, developed and nurtured all her life via her loving familial relationships.  She has an ironclad sense of what is right and wrong, and an unshakeable faith in God. These traits, plus the belief in gender equality imbued into her by her parents, are the things that have carried her through the dark times. 
But they also make up the spirit in her that Youssef tried to break, and couldn't. So instead he took the one thing that was most precious to her, the one thing that he knew she would do anything to get back. 
And she did.
After days of calling Youssef, he finally answered and told Aya in no uncertain terms that if she wanted to get her son back, she had to sign documents saying he didn't owe her a single cent as part of the marriage settlement, despite eventually selling their house for millions of dollars.
"And he told me I will call immigration I will send you back to Egypt you will not see your son anymore. I will tell him you died and that's it." She pauses, overcome. "So scary," she whispers, wiping away a tear. "So scary for me."
Of course she signed immediately, and her son was returned to her.
>>> Want more inspiring stories like this delivered straight to your inbox? Sign up to our mailing list.
She moved from the big house and into a refuge for domestic violence victims, where she and Ahmed stayed for nine months as Youssef took her through court, to ensure that his son would not be allowed to leave the country until he was 18 years old.
"I cried and cried", recalls Aya. "Because how can I go home to see my family and leave my son? I cannot."
Fortunately, Aya's mother, wracked with guilt over pushing for the marriage, was able to come over every year for the first four years, and help with Ahmed for a few months at a time. 
And when Ahmed was six years old, Youssef's older children aged out of child support, and Aya was due to receive more money from him. But she struck a deal with Youssef – she would sign something to say she won't take any more money if he let her bring Ahmed home for a visit. He agreed, and Aya and Ahmed flew home to Aswan for a huge and emotional family reunion.
"Ahmed did not want to come back to Australia," she says sadly. "Because of the big family. He has all children to play with. Cousins and friends. Here he is a lot alone." But return they had to.
By this time Aya and Ahmed had moved into a tiny old unit in a cheap suburb, subsisting off – ironically – legitimate single parent payments. Payments that barely cover the cost of living. 
But boy, Aya knows how to make a space beautiful. Suspended from the ceiling is a delicate white lace tapestry, tied up in looping patterns. Family heirlooms sent from Aswan to decorate her new home, and lovingly handsewn and fixed up by Aya herself. 
The unit is spotless and the furniture is polished to a deep sheen. Lacy white tablecloths and doilies give a feminine air to the space, and on the coffee table sits an array of sweet biscuits and beautifully cut fruit displayed on floral china. 
Aya herself is immaculately presented in a rich blue hijab, with a warm and infectious smile that comes readily.
However beautiful the interior of the old brick unit, she still has to venture outside. And living in a lower socio-economic area comes with another heightened set of challenges, such as the regular racism she experiences from the white folks in the neighbourhood.
"People spit on me, they say 'go back Muslim', or 'Muslim bitch go home' or 'fuck Muslim'," she tells me.
"One time when I'm with my son a man comes up and does the finger to both of us.
"I don't want my son to grow up with this, to maybe make some bad ground in his heart to other people. Maybe push him to be racist as well. He start to believe Australian people do not like us.
"I want to make it so he not look for religion. I say 'Look for the heart and good behaviour only. If someone have good behaviour with you, that's only you have to look for'.
"But not all the people here are like this," she continues.
"I have good neighbour they helping if I get sick I can leave my son with them. If something happen with my car. It's a few of them are very nice."
Unable to move back to Egypt because of the custody agreement with her ex-husband, Aya does her best to survive, and even thrive. And a local well-meaning multi-cultural organisation helps where they can. Despite everything she's been through, eight years after her major trauma, she remains grateful and happy.
"Ahmed is in school. He is just now starting to have friends," she says proudly. 
"Before I could never drive. Now I drive everywhere! Oh, I love my car so much!" She beams, lighting up the room. "It is a nice, peaceful life."
Aya has worked hard on studying English, and is also doing a certificate in Allied Health, in the hopes of being able to work with the elderly, and finally fully support herself and Ahmed.
"I try to find many job, but they all say English not good," she recalls. "I can't teach science anymore. I can't do teacher aide. But now I do placement and then after I may work!" She is positively gleeful at the prospect.
Still, it's a lonely life. The local Egyptian Muslim community closed ranks on her following the divorce, something that is still considered shameful. 
"My culture they don't accept divorced women," she says sadly.
"The woman is scared if I'm waiting for her husband. The husband thinking I'm free they can do what they like, or I will teach his wife to be single mother as well.
"Second part my ex is famous in my community because he's a doctor and they listen to him and what he lie about everything, that I'm bad woman, because in my culture the man they hit the woman, do everything they like, but the woman have to be quiet and say no problem. 
"And that's what I was doing before he pushed me in the street. If I didn't leave, maybe I would get crazy, maybe I would die."
Still, Aya hopes that she will soon make new friends, once she is able to work in the Christian Care facility she is doing her placement with. And even the idea of having something to do outside of the home and looking after her son is something to look forward to.
"I want to help people" she says. "Because when I help someone and I make someone happy that makes me happy."
Right now Aya is helping women who are in similar situations to the one she was, women with broken English, abusive husbands and little support. Because she knows how hard it can be.
"I'm happy to stay in Australia now," she says. "Here I live alone, I sleep free, wake up free, even I not feel shame for saying I am single mother. It is safe."
* Identifying details have been changed
---