Justine Dillon: Fighting a winning battle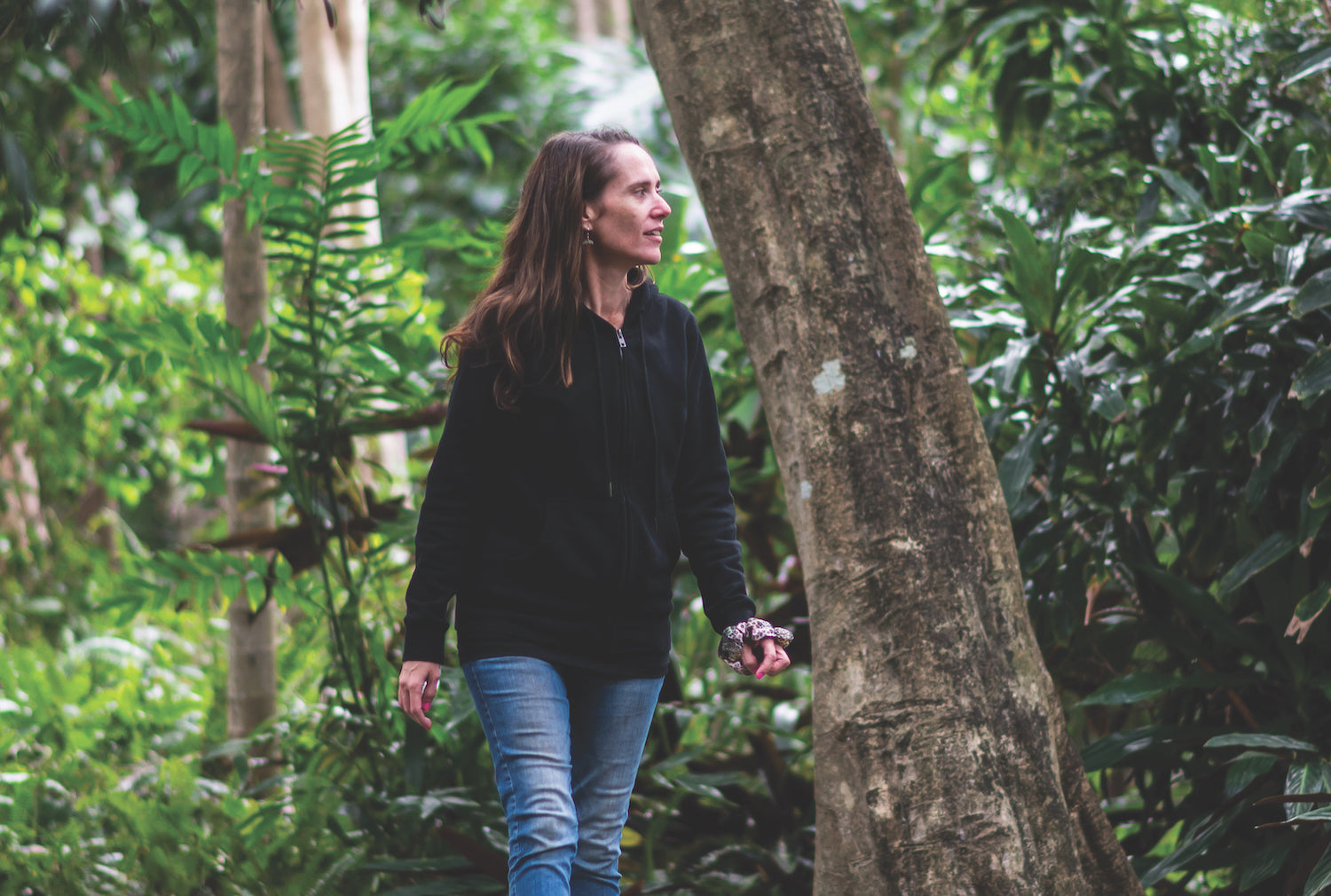 Words by Natalie O'Driscoll
Photos by Simone Gorman-Clark
Tenacious Kombumerri woman Justine Dillon's life has been a battle from the start. Now she fights night and day to undo the erasure of her mob's traditional ownership.
Note: This story contains claims about traditional ownership that we are unable to verify. This story is Justine's own lived experience and we have faithfully reported her truth. There are likely many sides to this issue that are not being addressed in this one space.
Justine Dillon gets up every morning and puts on the mental armour required to face an ongoing uphill battle. 
Around twenty years ago, an elder of the Kombumerri people (traditional owners of the Gold Coast from the Coomera River in the north, Mt Tamborine in the west and Currumbin Creek* in the south), signed an agreement to refer to the wider Gold Coast as being Yugumbir* country. 
Manifold issues have arisen since that point.
"Yugumbir is a language group," says Justine. 
"Language group is supposed to come last. We are the Kombumerri people of the Narang-wal dialect of the Bundjalung nation. 
"There are kids growing up here now calling themselves Yugumbir but they're actually not, at all. They've lost their connection to their heritage. You know, the word Yugumbir comes from an emu dreaming song, and a lot of the now-called Yugumbir people don't even know that.
"Their lore is all wrong. And the way it's talked about is back to front."
Gold Coast is littered with references to Yugumbir people as traditional owners of the area. They're acknowledged at public gatherings. Yugumbir language abounds.
This seems a fairly large consequence to one man signing a paper twenty years ago, however for a group of cultures which have already been massacred, displaced, disbanded and assimilated as a result of European invasion, it's not so hard to believe that it could happen again.
It's just sadder that it's happening in-house. 
Justine recalls giving birth at the Gold Coast University Hospital, on the land of her ancestors.
"I used the Indigenous women's birthing service there, but it's all based around Yugumbir practices. Not one Kombumerri mention. I didn't want to go back there.
"There was artwork on a wall from a lady from Canberra, or Melbourne or whatever. Really? We have Goompi* and his wife here. Why am I sitting here looking at a mural of someone from down south at a Gold Coast hospital? Even going into the NICU suite, the door has a Yugumbir welcome on it."
It's hard for outsiders to wrap their heads around the complicated internal politics that make up much of modern Aboriginal discussion around groups and titles. But it's obvious that this second erasure is a gigantic slap in the face to the remnants of certain groups who are desperate to retain what little remains of their connection to country and their ancestors.
>>> Shop all things Nevertheless
Growing up, Justine and her parents lived what many would consider to be under the poverty line. Placed in housing commission and living off Abstudy, sometimes if they didn't fish in their local waters all weekend, they didn't eat. And yet these are some of her happiest memories.
"After dad would take us fishing we'd go around to all the Aunties and the cousins and that, and do the 'Fish Drop', as they'd call it. We'd go in, have a cup of tea and a chat, and drop off the fish we'd caught that day. All the kids would play outside."
Unfortunately, the all-too-common darker side of deprivation came right along with the sunny times, too. 
While Justine's mother went to university and her father went to TAFE to try and better the family's situation, the Dillons struggled with limited support from the local Gold Coast Aboriginal community groups and this resulted in what Justine describes as a "difficult" home life, rife with many of the common themes related to inter-generational trauma and negative cycles.
The continual battle for a better life added multiple pressures to the family and life wasn't easy. 
"My father come from a strong and very strict upbringing and that strict rule was bought down on me and my brother regularly," says Justine.
It wasn't just at home that they experienced conflict and instability, either.
"We were a token black family in Helensvale - Dad would go to the TAB a lot and we'd ride our bikes around outside and we definitely stuck out in that white golfing community, but then I also remember talking about my Aboriginality in class and my teacher screaming at me 'You're too light to be Aboriginal' and I went home crying and hid in my bedroom.
"I remember thinking if I'm not Aboriginal, then what am I?"
It seemed that nowhere felt like a safe fit for Justine. The Catholic beliefs she was raised with rang hollow. The black kids at school bullied her for being too white. The white kids wouldn't befriend an Aborigine. She loved her father deeply, and completely hated what he was doing to the family when he was having his bad days. 
Eventually, she found herself standing up to her father and earning his respect, but not until she was nearly 18. By then it seemed like she was the only one in the room that was always standing up and speaking out.
And she still is.
Justine speaks up at every opportunity. She teaches at local schools. She educates Indigenous park rangers, combs archives, documents stories and meets with community leaders around the country. She works tirelessly to bring the knowledge and culture of her ancestors into the modern era. Most of all, she tries to educate the people in her own family.
It's a lonely fight, but sometimes support comes from unexpected places.
>>> Want more inspiring stories like this delivered straight to your inbox? Sign up to our mailing list.
"When I was in labour I texted my friend Ben to wish me safe passage for baby's entry. He was up in North Queensland with a different mob, and he read it out and all the Uncles starting doing a call – woop, woop," Justine recalls.
"Then the Aunties came forward and made a call to their rainforest goddess and sent down their spirit to my son for his birth."
She chokes up, remembering the power of the moment.
"I don't even know these people. I was like what's going on? It was ghostly scary but really strong."
When the Aunties had finished, the Uncles took Ben to do men's business. They gathered five oils from the trees around them – each with a different scent – but when they mixed them together, all the scent disappeared. An ancient practice, lost to their southern counterparts.
The Uncles shared their own ceremony with Ben, and he took it back down and told it to Justine's partner, who applied the Indigenous birthing rites ceremony to their son. 
"It felt like my house was full of people," says Justine. "But there were only four of us there. The corner where we did the ceremony, my son keeps staring at it that corner every day, it's like someone is still there.
"It was so emotional and really beautiful, that those elders from North Queensland were willing to give this to us. I might never meet any of these people, but culturally, they were there for me."
You can see why Justine is so passionate about making sure that the connections are right, and that they remain. It's not just for her. It's for future generations, and for the kids that are growing up not knowing their lore, not connected to the right land or to their ancestors.
As a sexual abuse and domestic violence survivor, Justine has learned to fight and scrap for everything she's got, and won't back down from anything just because it's hard.
Justine, through her Ngarang-Wal Gold Coast Aboriginal Association Incorporated and non-stop work attempting to research, connect and educate, hopes that the wrongs of the last twenty years will eventually be corrected, and the Kombumerri mob can resume their official title as traditional landowners of most of the so-called Gold Coast. 
She also looks after the Indigenous park rangers, who are responsible for a range of eco activities across the Gold Coast, including site inspections, cultural burning and artefact identification.
"We're environmental conservationalists," she explains. "We want to revegetate the areas to their natural state where possible. Put in yarning circles, corroboree areas, native plants. We want to reclaim sacred birthing sites.
"The men and the women need private places where they can conduct their business. The men can't do initiations by the side of the road with everyone watching."
With more and more of the land being correctly claimed and renamed, tributes popping up for sites and prominent Indigenous families, and greater education in schools than there has ever been, Justine is hopeful for the future, although realistic about the timeframes and amount that can actually be achieved.
"My family has always had very grandiose ideas," she laughs. "But I'm seeing, especially in this male-dominated world I've come into, that we have to do things that are viable. Achievable. There are always ways of getting our culture across."
More than that, Justine herself is in the process of undergoing her own transformation. Having cast off her Catholic shackles, she now fully embraces Kombumerri spirituality, gaining healing from the lands of her people, and even chatting to the curious magpie – her totem - that comes to see if she's okay while we're having our fairly intense interview on a park bench.
"I get my callings home," she explains about connection to country and its healing process. 
"I say that I'm disconnected from my matrix and I've gotta go plug in and get my love from the mob and country. I fill my love tank and get all the care from my family and come back to my work feeling energised."
Perhaps the best result of all of her efforts is that, after experiencing a life characterised by conflict, volatility and instability, Justine is finally carving out her own place in the world. She's found out where she fits, and who she is. And she likes what she sees.
"I'm seeing my value and my worth finally, after all the hard work," she says. "My ancestors are always walking with me and showing me the way. It all just reaffirms to me that I'm doing what's right."

* It is currently unclear whether the southern boundary is Currumbin Creek or Tweed
* Yugumbir is the traditional spelling. It is commonly represented as Yugambeh
* Goompi Ugerabah is a local Aboriginal artist who shares the Kombumerri Dreaming with full respect, and follows local lore and protocol.
---