Lucy Stirling keeps hanging on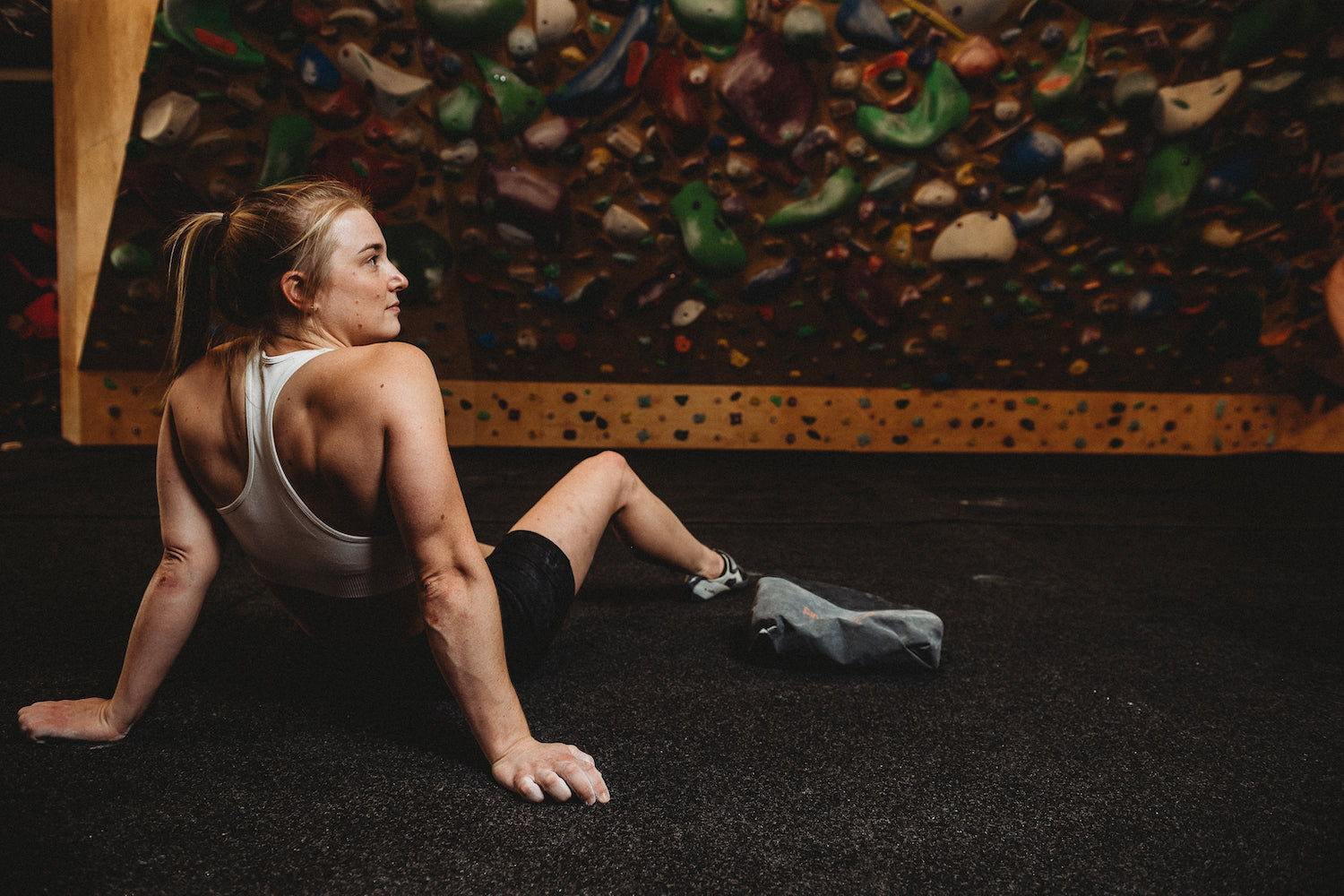 Words by Natalie O'Driscoll
Photos by Melanie Hinds
Competitive climber Lucy Stirling's tale of rock-solid persistence in the face of adversity is peak toughness inspo. Here is her story, in her own words.
"2020 I guess was a big year for everyone. I had been training for the Olympic qualifiers for three years already, and we were ten days out from the event happening. I was in Sydney -- I'd been there for a month training on the walls for the event.
"Ten days out, Covid had started happening and they canned the event. I was I denial. Like, 'Surely not, this can't happen, they can't take this away from me! Everybody felt that way I guess.
"So it was a weird period during 2020. We weren't sure if the competition would be cancelled altogether, or if the Olympics would happen, if they would postpone the event.
"I was peaking and I was ready to perform. As an athlete you train in cycles and you definitely can't maintain a high performance period for very long. I was trying to decide whether or not to have a rest, or maintain a high level in case it was only a month away. It was very challenging.
"Eventually maybe five months later, around June, I'd had a rest and I started a new training cycle. We knew that were still going to have an event but we didn't know when yet.
I went climbing outside and had an accident and fell five metres and fractured my sacrum.
"It was super lucky. It could have been so much worse; it could have been my spine or coccyx so it could have been a lot more painful and with more serious consequences. I was lucky in the location.
"It was scary at the time also potentially being four to five months away from the Olympic qualifier, I was freaking out a bit. But it also had this weird element of relief like, this is a decision made for me. There's so much uncertainty, but I have no choice, so I'm going to make the most of it. So as terrible as it was, it was better, because I didn't have to make any decisions I just had to rest and do everything I could to improve and get myself to the right place.
"I had a lot of support through this period, and I had a physio and pilates sponsor and I was in there three days a week. She was making sure my muscles around that area were healthy and I had a lot of support which was awesome.
"By the time I could climb again it was a pretty quick return to being at full strength again. Not only had I been training through it to help with the injury recovery, I also had the opportunity to train in my weaknesses that I didn't have time to do before I was injured, like my balance. So it made me come back stronger than I ever had been before.
"Six months after my fracture I achieved my hardest grade outdoors.
"We finally were given a date for Oceanics, and it was December 2020. It was great, we had some certainty, I was feeling stronger than ever and fully recovered and we went to Sydney for the few weeks before to prepare, like the previous time.
"Then a week before the end of prep I kicked something walking to the toilet and broke my toe. I fractured my pinkie toe and for the week leading up I couldn't put my foot in the climbing shoes I needed to compete in. That was mentally difficult.
"By the time the comp came around I could just get my foot in the shoe. I had to deal with a bit of pain but at least my foot fit. We realised that it might fracture more, but that's the risk to reward ratio you have to work out. You've just gotta push through the pain and compete. By now I'd been preparing for four years, so I thought I might as well just break it further and then I'd have however long I need after the event to recover.
"So I had some issues around my toe and during the second round, in the boulder climb, my back started spasming halfway through the event. I had to get it fully taped up so I could climb without the pain and I think it was related to the sacrum fracture. It had just started coming back from imbalances because of the load I was doing in preparation for this comp.
"Then I tore a bleeding hole in my thumb, which seems quite minor in terms of things when you're competing at a high level, but you're not allowed to compete on the wall if your finger is bleeding. You have to tape it up and make sure it stops bleeding. I taped it up and it was fine to compete, but you don't want to climb with tape, because it makes it lots harder.
"I had this moment after the boulder round. The speed round had gone average to below average, the boulder round I didn't perform as good as I could have. I was frustrated and angry and I wanted to give up.
"And all of these things were giving me an out, kind of like when I broke my sacrum. In that situation I had to stop. In this situation I had the option to push through but it was also an opportunity to have an excuse to give up. I didn't want to continue. It felt too hard.
"But I'd been preparing for this event for four years, and aside from that, one of my biggest values is that I don't give up.
When life gives you an out, that's when you push through the most. That's when you have to keep pushing.
"I iced my toe as it was swelling up, I strapped by back, and I taped my thumb. Screw it all, I thought, I've got one round yet and I'm gonna give it my all, I've got nothing to lose, I'm going to rip into it. And it was one of the best climbs I've ever done.
"I climbed really well and I placed second in lead in that round. When I climb on the lead route there's nothing that distracts me. I feel in my element and like dancing up a wall, it all just comes together effortlessly. It was fun. I've always remembered this moment. It teaches me that when life gets tough, that's when you've gotta push though. And when you want to give up, just find a way to work through and sort of suck it up and get it done. And then life generally rewards you!"
And the rewards keep coming. Fifteen years after she climbed the rock wall at her school and became addicted, Lucy's the best she's ever been at her sport.
Just recently she competed in a national event in Sydney and came first in Australia in lead climbing and fourth in bouldering.
Now she's focussing on outdoor goals in the Blue Mountains, while planning to compete in the World Cup and even still go towards competing the next Olympics.
To keep up with Lucy's athletic journey, follow @lucyclimbing
---