The invincible Natasha Price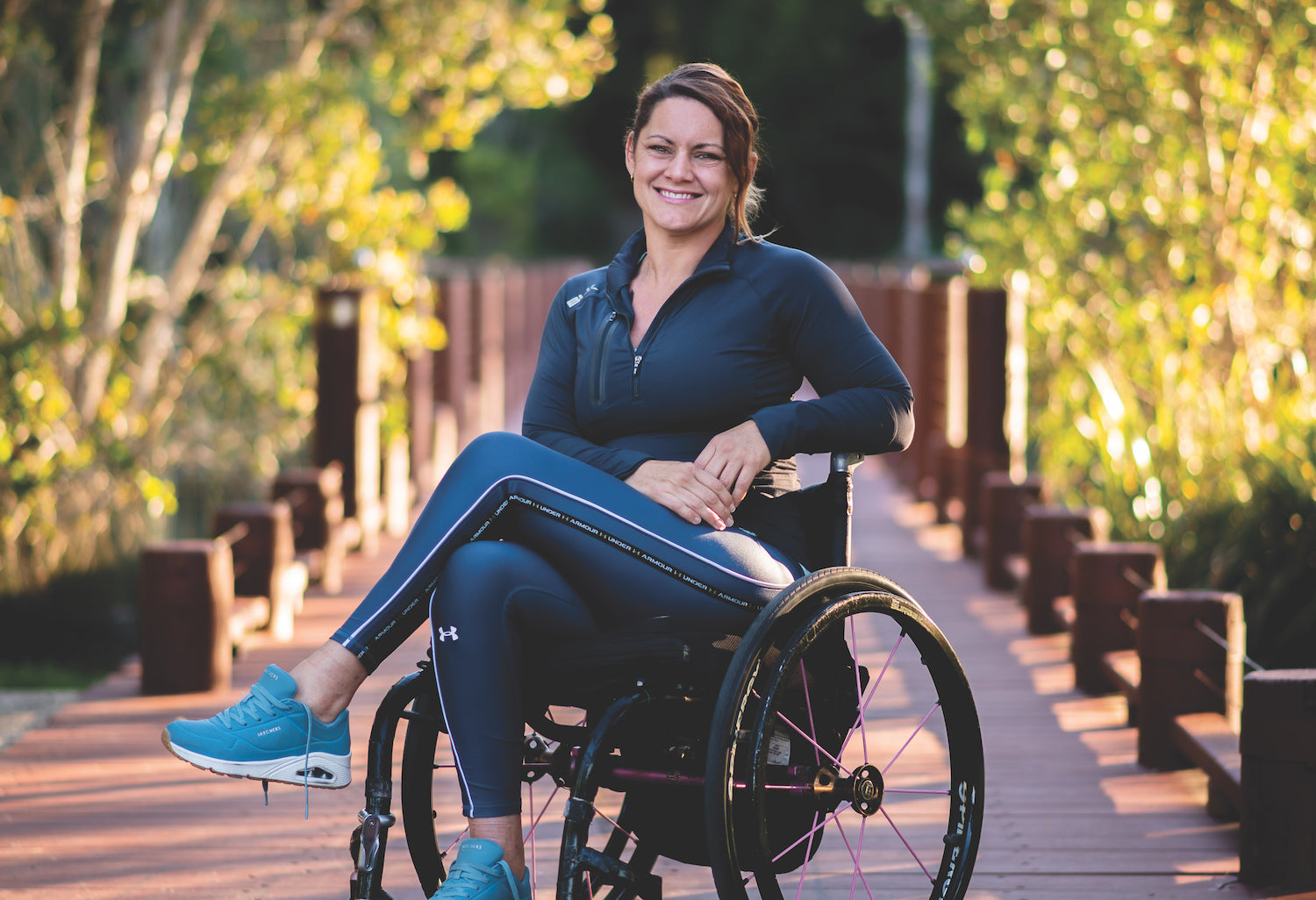 Words by Marlena Katene
Photos by Simone Gorman-Clark
When I look at Natasha Price, I not only see a strong and fearless athlete who is kicking some goals in the sport of wheelchair racing, I also see a role model who is creating change in the disability and inclusion space.  
With a successful footballer as a father in the UK, you could say sport is built into Natasha's DNA. 
But in 2008 life took a drastically different turn for Natasha, when a rare neurological disease left her paralised and blind overnight.  Although Natasha's life had changed forever, she took the lemons she was dealt and turned them into lemonade. 15 years later, this remarkable woman has just completed the Gold Coast marathon and has her sights set on the Paris Olympics 2024. 
Sport is Natasha's passion, but she is also an astute businesswoman who has built an organisation called 'InvincAble'.  It is a space that empowers people with disabilities and long term health conditions to have fun, active and fulfilling lives. If there's a wheel there is a way and Natasha is the proof anything is possible if you want it to be.   
I was lucky enough to catch up with Natasha for a chat about her competing, dreams, being a woman, her advocacy and what is coming up next for her. 
You recently completed the CPL Wheelchair Marathon and you were hoping to do it in less than two hours.  I wondered if you could tell us about how you went, and how many that makes for you now in total?
Unfortunately, the marathon didn't go as planned. I've had some health issues recently which meant I was unlikely to get the sub-two hour I was previously predicted to get, however, I also had problems on race day. My racing chair was compressing my hips and the pain was excruciating, bringing tears to my eyes. When adding in the fact that the strapping holding my legs in place broke so my feet were dragging on the floor meaning I had to stop every 10 minutes, I eventually ended up finishing in three hours 16 minutes. On one hand, I was very disappointed but, on the other, I was incredibly proud of myself for getting through the full 42km, as I wanted to give up 18km in! 
You have dreamt about representing Australia in Paris 2024, could you tell us more about that and what it would mean to you to be able to compete there?
Although I have competed in track events, marathon is my passion and I love the mental challenge, so hope to represent Australia in it at the Paris 2024 Paralympics. Although, I also love the 100m (complete contrast, I know), so that could be an option too. I have a lot of work to do as my current competition times are not reflecting my training times nor ability, but Australia has given me so many opportunities since migrating here in 2007, and I want so badly to represent this incredible country in a way to give back. That's why I will put all the work in I need to make this happen. 
I wondered if you were sporty as a child and young adult or if this is something you took up following the onset of your neurological condition?
I have always been sporty and was a junior athlete. Funnily enough, I hated anything over 200m yet revel in distance competition now. My dad was a top-flight football (soccer) player in the UK and, consequently, sport is just in my blood. 
>>> Shop all things Nevertheless
What are your thoughts around womanhood, being a woman, raising women, and inspiring women?
Being female isn't always easy. We tend to take on the thoughts and feelings of others and let them affect our actions. The most important quality any female can have is to have the courage of her conviction and not allow the opinions and beliefs of others to affect her path in life. 
Often women don't follow their dreams because there are so many societal expectations and beliefs from those in their lives about what they should and shouldn't do. Don't forget whilst you may be a wife, a mother, a businesswoman, an employee, a daughter, a friend etc., these are all roles and yes, they make up the rich tapestry of your life, but ultimately you are still YOU, so must put her first to nurture happiness and be the best you can be for all those roles you play. 
I do feel though that the strongest females have a strong network of both male and female role models in their lives. Working collaboratively with the opposite sex is the best way to build confidence in young girls so that they grow into women that know their value and are not afraid to be part of a world that is made up of all genders.  
Could you tell me more about why you felt you needed to take up advocacy and in an ideal world what you would like to see improved for accessibility in the community if you could click your fingers and make it happen?
I've always had a strong sense of justice (in a previous life I was a lawyer) and it bothered me how little the rights of people with disabilities are taken into account. I found myself lucky enough to be given a platform as an athlete so that I could give more visibility to disabilities and help change perceptions. I couldn't let that opportunity go to waste and felt I had to make my voice heard to benefit everyone as a whole. I did this by starting my business InvincAble alongside my business partner Adam. 
 
In regards to accessibility, things are slowly improving but there is still a long way to go. Even small considerations such as putting hand towels/dryers next to a sink within an accessible bathroom so a wheelchair user doesn't have to put wet hands onto dirty push rims is often overlooked, but can make a huge difference and costs nothing to implement. There are solutions to bigger accessibility problems but a lot are just band-aids to the issues and real solutions are needed so that inclusive design is utilised from the get-go, not poorly retrofitted as an afterthought. 
 
Personally, I feel like people with disabilities shouldn't have to keep jumping through hoops to be treated equitably. For example, if somebody isn't asked to sign a waiver or turned away when using their legs, then why should they be using a mobility device? A wheelchair is our legs. We have skills. It is up to the person using the device to decide whether they have the skills/equipment/support to participate, not some other person somewhere who does not understand that person nor their situation. 
There are a million examples of where persons with disabilities (PWD) are treated differently purely due to their disability. But why? We adapt every single moment of every single day. Stop setting the bar so low and increase expectations so we are allowed to live life instead of being held back not only because of the inaccessible world we live in but also because of unconscious biases which exist! 
 
So if I could click my fingers and change anything, it would be attitudes, because once inclusion is regarded as a priority for all, accessibility and equity will quickly follow suit. 
What would you consider your best and worst qualities?
Determination is both my best and worst quality. My determination keeps me incredibly motivated and pushing hard when the going gets extremely tough. It's also my biggest downfall as I can't seem to stop, even when it's detrimental to my health and mental well-being to keep going. Two sides of the same coin which is a constant mental battle for me and my coach/business partner, Adam, whom I often drive a little crazy!  
>>> Want more inspiring stories like this delivered straight to your inbox? Sign up to our mailing list.
Do you have any advice for young aspiring athletes living with disabilities?
My advice to aspiring athletes with a disability is if you want something goes for it! Forge your own path. It's often a tough one to choose, as disabled sports are not as mainstream or accepted as they should be. If you come across a barrier, don't be scared to advocate for yourself nor be scared to reach out to those with experience and ask what to do. Often they will have a solution or will be willing to help. If a junior, look into inclusive sports organisations that offer come and try days or sports camps, such as the annual Variety Kids Sports Camp, so you can meet like-minded kids and try out new sports. 
Who are your idols and inspiration?
My inspiration has always been my parents. As a professional football player my dad's sportsmanship, work ethic and determination taught me how to be the athlete I am now. And my mum is the strongest, most courageous and sheer bloody-minded person I've ever met. Through example, she has taught me a level of resilience I could only have learnt through the demonstrations of a close female role model, leading to where I am today. 
I am also incredibly inspired by my coach/business partner Adam, who has not only helped me to grow as an athlete and inspired me with his own achievements within the sport but also grow as a person, and has taught me so much about how to live life with a disability. For that, I will be forever grateful. Within the sport of wheelchair racing, I have the most respect for Kurt Fearnley, Eliza Stankovic-Mowie and Louise Savage, not only for what they have achieved but also for what they do for disabled sports and inclusion as a whole.
---