The language of art with Nasrin Vaziri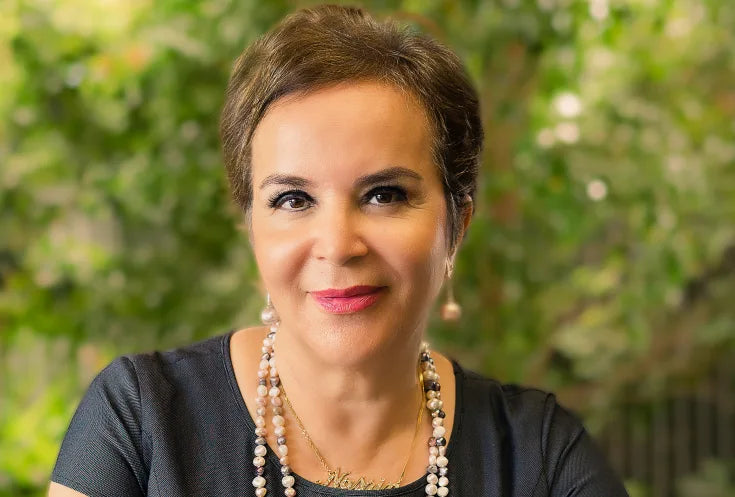 Words by Natalie O'Driscoll
Nasrin Vaziri doesn't believe that life imitates art. She thinks the two are inextricably intertwined.
It would require more space than we have to list off the many qualifications and achievements of the formidable Nasrin Vaziri. As a Founder and Director for Gold Coast Multicultural Arts Group in Collaboration Inc (GCMAGIC), the Board Executive Member of Women Empowerment and Leadership Association and a communications specialist with a Masters in Sociology from the University of Queensland (UQ), Nasrin has dedicated her life to the pursuit of knowledge how arts can assist wellbeing of community, gender equality and the successful integration of culturally and linguistically diverse (CALD) artists and cultural groups to Australian society.
So dedicated is she to her manifold projects that she was even awarded the Centenary of Federation Medal for her contributions to Australian Multicultural Society from Commonwealth Australia. 
But, at the end of day, what she really is, is an artist.
When Nasrin, her husband Mehran and their two eldest daughters immigrated to Australia from Tehran in 1990 due to the worsening socio-political situation, Nasrin enjoyed art as a hobby.
"My mother sent me to art classes when I was young because she always likes to be an artist but she had never had opportunity," Nasrin explains. "She put me under the supervision of very prominent Iranian artist.  
"Art in Iran is really in a high standard - even now with this negative socio-political climate  - but art always has been used as a tool for communication because of the limitation of the freedom of speech.
"People use music and dance and culture and visual art and even creative writing to express themselves freely, of course in metaphorical language."
Although certain she made the right choice, especially for her daughters, Nasrin found herself pining for home in the lonely, early days of the move to Australia.
"When I came to Australia, I really was homesick and often being sad. They're completely two different worlds in term of cultures, ways of thinking and set of beliefs.
"I should emphasise I'm not religious," she interrupts herself to clarify, "But culture, food, social life and everything else was different."
"And then I started to use art for not anymore as a hobby but, as a way of expressing myself. And so without much English, I spoke with art and through my art to the community."
>>> Shop all things Nevertheless
Nasrin was eventually invited to be a part of some local ethnic art groups, and became a co-ordinator for numbers of group exhibitions. From there, she helped to establish GCMAGIC and began running arts projects that brought together creative migrants from all over the world, including acclaimed exhibition MASKED, that honoured frontline medical staff during Covid.
"It's really important we mix with each other, that we go out and meet people in person," Nasrin says of the importance of the projects.
"Mental health problem is often because of isolation and when people are in solitude, art is a good item to lift up the person's mood. This is why we also use art as a language for wellbeing.
"I use these days arts expression for social awareness. For example, recently I worked with a young folk dancer," she recalls. 
"And I trained her in conceptual dance in relation to Domestic and Family Violence (DFV). She's emerging artist and a migrant. She told me her English is poor and I said to her not to worry about the verbal language, you can speak through your dance, your body movement."
Unsurprisingly for a passionate Ambassador for women and mental health, some of the creative projects Nasrin undertakes look at the subject of domestic and sexual violence towards women, including a powerful women's photography exhibition that was supported by the state government. 
While these issues are certainly prevalent in the natal Australian community, they are equally as common but much less likely to be spoken about within the migrant community, making the work done by GCMAGIC even more essential.
Nasrin muses on the Iranian attitudes towards women at the time she left.
"Iranian women have two statuses," she explains. "One inside the home and one outside."
"Iran is a classified society. I come from middle to upper class, and in that framework, women are powerful and have active voices inside the home. Women are the head of the family, they make decision about everything; social life, children, investment, finance, education, and they have a lot of respect.
"Unfortunately in Iranian culture the value goes to mother not to woman. Women usually have value if they are mothers, so this is really sad to me.
"Outside the home and in the written law, women have not much rights as they have here. In Australia there are written laws for the protection of women, but practically there is not much support. In Iran, the laws written say things like if a wife separates from her husband he can take the children away from her if they are over seven years old, but practically no one really does that. They leave the children with the mother.
"Sociology tells me that educating the society and population is a necessary supplement for the written law," she continues. "If the written law is really good but people don't understand and don't believe in that law..." she shrugs.
"Iranian academic Dr Milani says that Iranian women are clever and powerful enough to be a doctor or a politician, an engineer or a CEO and pilot, but at the same time if any of them want to leave the country, need to get the permission from her male guardian like a husband, father, even a son.  
"This is the situation and explains the status of today's Iranian women."
>>> Want more inspiring stories like this delivered straight to your inbox? Sign up to our mailing list.
Nasrin's two eldest daughters were joined by a third, born in Australia. All three regularly thank their parents for deciding to move to Australia. Nasrin even went back to university to start her PhD at the same time as her eldest began her undergraduate degree. 
With this powerful woman steering the Vaziri family ship, the foursome are a close-knit unit of thinkers, workers, artists, students, philosophers and philanthropists.
"The four of us studied and not just for being employed but for obtaining of knowledge as we believe knowledge is power," Nasrin says. 
"We have always taught kindness and honesty to our children. I see honesty as a tool that will lift you up in a democratic society and community. My vast social network is my asset and wealth and everything I have achieved in society, community and from the government has been because of honesty.
"Always at the end of the day I think what was my contribution today to society? I often asked each of my children 'what was your contribution today?'" Nasrin tells us.
"You can have at least one major contribution every day. Passing message to the society through art, helping an artist, a person with mental health problems or similar.  At the end of the day, I sit and think about what have I done?  If there were any achievements, make me feel good.  I call it self-satisfaction. When I'm satisfied, I make my partner happy. I be a happy mother for my children and a happy friend for my friend.
"Our family is very much appreciative about Australian society. We avoid of any complications and misery. So, we choose what culture we want our children to have. 
"We taught them Persian literature, Persian poetry, we cook Persian food for them, healthy food with fresh herbs and ancient ingredients! And the democracy, tolerance, equality and fairness that we aimed to achieve in Australia at the time of migration."  
"We came here aimed at growth, for the betterment of life, having freedom of speech and enjoy a democratic society. We came through point system for our educations, skill, employment ability and age, at the time of obtaining Australian permanent residency visa. 
"When our eldest daughter in age of eight, asked us the reason for leaving our beloved land and moving to Australia, we said: 'Honey, we are moving for the betterment in terms of taking and giving.' We want to be better. It is the slogan of our life."
---